Nigeria Calls Off Search for Survivors in Lagos Building Collapse
Anguished families have protested against the authorities' decision to call off the search for survivors. Lagos State Governor Akinwunmi Ambode has said that the building which was listed for demolition in 2017, was classified as residential and that the school was operating illegally.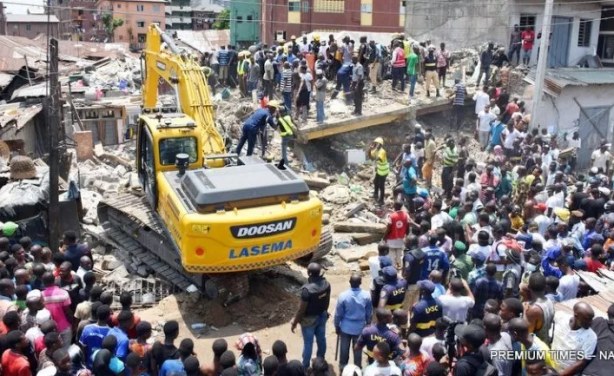 A rescue team search for more victims from the scene of a building, which collapsed at Itafaji on the Lagos Island on Wednesday.
Nigeria: Over 1,000 Buildings Unfit for Human Habitation in Lagos - Expert

Premium Times, 14 March 2019

Kunle Awobodu, the National President, Building Collapse Prevention Guild (BCPG), says there are over 1,000 buildings unfit for human habitation in Lagos Island. Read more »

Nigeria: Lagos Govt Begins Demolition of Over 180 Defective Houses

Vanguard, 15 March 2019

Following the recent collapse of a three-storey building at Ita Faj in Lagos Island on Wednesday which killed over 20 persons including school pupils, the Lagos State Building… Read more »

Nigeria: 20 People Killed in Lagos Island Building Collapse

Vanguard, 15 March 2019

Lagos State Government has confirmed that a total of 20 people died in the early Wednesday, collapsed three floor building at number 10 Dogara Street, Ita-Faaji, Lagos Island. Read more »

Nigeria: Probe Demanded Into Fatal Nigeria Building Collapse

CAJ News, 15 March 2019

Children's rights groups are demanding a probe into the death of at least eight schoolchildren after a building collapsed in Nigeria. Read more »

Nigeria: Fast-Track Demolition of Marked Buildings, Tinubu Urges Lagos Govt

This Day, 15 March 2019

The National Leader of All Progressives Congress (APC), Bola Tinubu, has urged the Lagos State Government to fast-track the demolition of buildings marked as structurally unfit. Read more »

Nigeria: 1,000 Buildings Under Threat of Collapse On Lagos Island

Leadership, 15 March 2019

With Lagos residents yet to recover from the shock arising from the collapse of a three-storey building on Wednesday, there are worrisome revelations that another 1,000 structures… Read more »

Nigeria: Death Toll in Lagos Building Collapse Rises to 14

This Day, 15 March 2019

With the operatives of the Lagos State Emergency Management Agency (LASEMA) getting to ground zero at the three-storey residential building that collapsed at Ita-Faji area of Lagos… Read more »

Nigeria: 'I Lost Three Children to the Building Collapse, the Only Surviving One Has a Broken Leg'

Guardian, 15 March 2019

The tales of woe, lamentation, regret and relief for some continued yesterday at the site of the three-storey building that collapsed at Massey Street, Ita-faji in Lagos Island on… Read more »

Nigeria: Building Collapse - Health Minister to Visit Survivors Later Today

Leadership, 15 March 2019

The minister of health, Prof Isaac Adewole has arrived Lagos this morning to visits survivors at various hospitals and sympathized with relatives of victims of the collapsed… Read more »
InFocus
Lagos State Emergency Management Agency has said that at least 40 pupils have been rescued from the collapsed building. Residents have said that approximately 100 children attends ... Read more »

At least eight people have been killed after a three-storey school building collapsed in a densely populated area of Lagos. Thirty-seven people have been rescued from the ... Read more »