Sudan's Al-Bashir Opts for Negotiations With Opposition
After four months of street protests, President Omar al-Bashir and the opposition have reached a deal to negotiate a transitional government. However, the two sides are yet to agree on the duration of the transitional government and its composition, as well as what forum will be used for negotiations.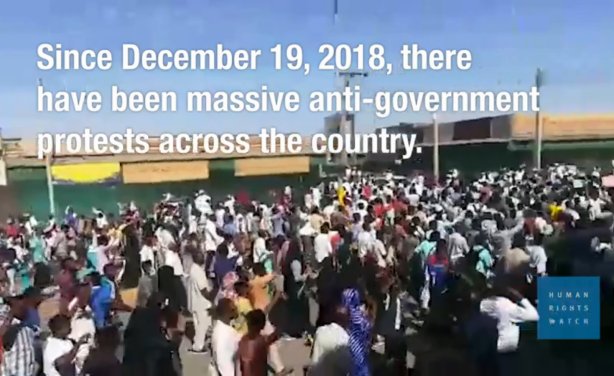 Since mid-December, protesters have taken to the streets in towns and cities across the country to protest price increases and to call on President Omar al-Bashir, in power for 29 years, to step down. The protests began in Atbara and have spread to other cities and towns, including Gedarif, Wad Madani, Port Sudan, Dongola, El Obeid, El Fasher, Khartoum, and Omdurman.
Sudan: ATMs Remain Empty As Cash Shortage Deepens

Radio Dabanga, 31 March 2019

The lack of liquidity in Sudan has intensified, with some people reporting that they have had no access to cash money for nearly three weeks. Read more »

Sudan: Sudan Call Head - 'Uprising Has Grown Into Broad Resistance Movement'

Radio Dabanga, 31 March 2019

The president of the opposition Sudanese Congress Party and head of the Sudan Call "home faction", Omar El Degeir, says the protests in Sudan against the government of President… Read more »

Sudan: NISS Arrests Student From Home in North Kordofan

Radio Dabanga, 29 March 2019

The National Intelligence and Security Service (NISS) arrested a 22-year-old student from his family home in Um Ruwaba in North Kordofan on Sunday March 24, the Human Rights Centre… Read more »

Sudan: 'State of Emergency, Fuel Shortage Cause Gold Production Decrease' - Mining Union

Radio Dabanga, 29 March 2019

The executive director of the National Mining Union in northern Sudan said that the State of Emergency that has been installed throughout Sudan to curb the organisation of… Read more »

Sudan: Emergency Courts Imprison Students, Fuel Smugglers

Radio Dabanga, 29 March 2019

An Emergency Court ruled to imprison three university students for six months and a fine. Police sergeants and lawyers presented conflicting stories as to how the students were… Read more »
InFocus
President Omar al-Bashir's declaration of a year-long state of emergency indicates that he has opted, for now, to take the route of greater repression to quell popular protests ... Read more »

The ruling National Congress Party has called on all political forces to support the government to make political and economic changes that will improve the living conditions. Read more »

Rights groups are voicing concerns about Sudan's violent response to anti-government protests. The rising costs of bread and fuel sparked the initial protests, which quickly ... Read more »