Check Out the Full Draw for the 2019 African Cup Of Nations
The Africa Cup of Nations draw has produced an intriguing set of groups that leave many riddles to be answered. Nigeria has been handed a seemingly easy group after they were drawn against Guinea, Madagascar and Burundi. Check out how the draw shapes up for the continental showpiece.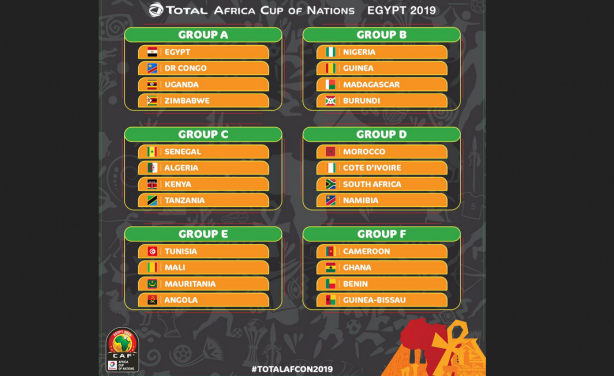 AFCON - Which is the most exciting group?
Nigeria: Afcon Pitches Rohr Against in-Laws

Vanguard, 15 April 2019

No doubt, it will be the dream of Nigeria's manager, Gernot Rohr to overcome all oppositions in Group B of the Africa Cup of Nations in June. But a member of his family may not… Read more »

Cameroon: AFCON 2019 Draws Made Public

Cameroon Tribune, 13 April 2019

A few weeks from now Egypt will be the capital of African soccer following draws that were made public on Friday, April 12, 2019 in the shadow of the Pyramids of Giza, Cairo.… Read more »

Madagascar/Nigeria: Afcon Draw - Madagascar Newspaper Dismisses Eagles' Threat

Vanguard, 15 April 2019

Madagascar, the big island country drawn in the 2019 Africa Cup of Nations' Group B is not losing any sleep of possible annihilation by the two big teams of the group - Nigeria and… Read more »

Kenya: Wanyama Speaks On Africa Cup of Nations Draw

Nation, 15 April 2019

Harambee Stars captain Victor Wanyama says he feels better after scoring his first English Premier League goal this season, and has also backed Kenya to progress from a tough… Read more »

Zimbabwe/Egypt: Bring On Mo Salah!... Warriors to Open 2019 Afcon Finals With June 21 Date Against the Pharaohs of Egypt

The Herald, 13 April 2019

Zimbabwe's Warriors will open the 2019 AFCON finals with a showdown against Mohamed Salah and his Pharaohs of Egypt at the Cairo Stadium on June 21 in a repeat of the national… Read more »

Zimbabwe: Warriors Face Possible Bafana Showdown

The Herald, 12 April 2019

A battle of Limpopo against Bafana Bafana, another duel against the DRC, a possible date against the Pharaohs or the Super Eagles of Nigeria or another tie against Senegal are all… Read more »

Zimbabwe: Warriors to Face Egypt in Afcon 2019 Opener

New Zimbabwe, 12 April 2019

The Zimbabwe Warriors will face hosts Egypt in the opening match of the 2019 Africa Cup of Nations on June 21 according to the draw of the continental showpiece held next to the… Read more »

Africa: The Afcon 2019 Games Revealed

CAF, 12 April 2019

Egypt-Zimbabwe will be the opening match of this Total AFCON 2019. The draw has reached its verdict. The Pharaohs, in Group A, will face the Leopards of the DRC, the Cranes of… Read more »

Namibia: Namibia Drawn in Group of Death

Namibian, 12 April 2019

Namibia's Brave Warriors were drawn in Group D against Morocco, the Ivory Coast and South Africa at the Africa Cup of Nations draw in Giza, Egypt on Friday night. Read more »

Nigeria/Ghana: Seeded Nigeria May Draw Ghana, Cote d'Ivoire As Draw Holds Today

Guardian, 12 April 2019

Nigeria, which is placed in Pot One, may paired against one of Ghana, Mali, Algeria and Emmanuel Amuneke's Tanzania when the draw of the 2019 African Nations Cup is made in Cairo,… Read more »

South Africa: Bafana Bafana Coach Not Fazed By the So Called Group of Death

SAFA, 12 April 2019

Bafana Bafana coach Stuart Baxter said he was not fazed by the so-called Group of Death after Bafana Bafana were drawn in Group D with Morocco, Ivory Coast and Namibia at the AFCON… Read more »

Kenya: We Can Dream, Says Migne After Afcon Draw

Capital FM, 13 April 2019

Harambee Stars head coach Sebastien Migne is confident that despite being a tough group for the 2019 African Cup of Nations, his side can dare dream of making it into the knockout… Read more »
InFocus
The Confederation of African Football has opted to use the latest list compiled by world football's governing body, Fifa, to streamline the sides for the draw. Read more »