Buhari Orders Security Chiefs To Do Their Jobs, Serve Citizens
President Muhammadu Buhari has asked service chiefs and heads of security agencies to fight the high level of insecurity in the country, saying that "Nigerians need to go to bed and wake up feeling healthy and confident that their security is guaranteed". Kidnappings, banditry and ethnic-religious conflicts have been on the rise in many parts of the country.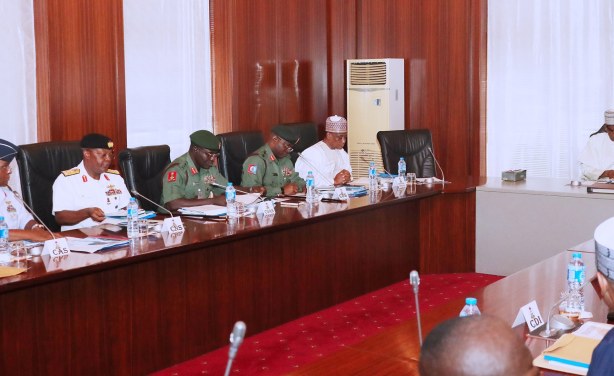 President Muhammadu Buhari with security chiefs.
Nigeria: Insecurity - Secure Nigeria Now, Buhari Orders Service Chiefs

Vanguard, 10 May 2019

President Muhammadu Buhari, yesterday, met with security chiefs on the security situation in the country and ordered them to redouble their efforts to secure the lives of… Read more »

Nigeria: Insecurity - We're Up to Task, Presidency

Vanguard, 13 May 2019

The Presidency has said despite security challenges in some parts of the country, the Federal Government is up to the task of reversing the trend. Read more »

Nigeria: Stop Blaming Buhari Alone for Insecurity, Uzodinma Tells Opposition

This Day, 12 May 2019

The Chairman of Southern Senators' Forum, Senator Hope Uzodinma has expressed worry over what he described as "undue politicization of the security situation in the country," and… Read more »

Nigeria: Insecurity - How Police Rescued Two Kidnapped Victims - Official

Premium Times, 13 May 2019

The Nigerian police say they arrested three suspected kidnappers, rescued two victims and recovered arms through ongoing operations to curb crime. Read more »

Nigeria: Presidency Highlights Measures, Initiatives to Tackle Security Challenges

Guardian, 13 May 2019

The Presidency has listed measures so far adopted to address the security challenges plaguing country, assuring Nigerians that the perpetrators of criminal activities in parts of… Read more »

Nigeria: How Buhari's Administration Is Tackling Security Challenges - Presidency

Premium Times, 12 May 2019

As Nigerians continue to grapple with multi-faceted security crises in different parts of the country, the Buhari administration has released some measures being taken by the… Read more »

Nigeria: Let Nigerians Sleep With Two Eyes Closed, Buhari Tells Security Chiefs

This Day, 9 May 2019

President Muhammadu Buhari Thursday in Abuja instructed the security chiefs to be alive to their responsibilities and allow Nigerians sleep with their two eyes closed. Read more »

Nigeria: Insecurity Across Nigeria - What We Told Buhari - Naval Chief

Premium Times, 9 May 2019

The heads of security agencies who met with President Muhammadu Buhari on Thursday briefed him "on what has been happening, with particular emphasis on the proliferation of small… Read more »

Nigeria: Police Chief Rolls Out Counter-Kidnapping Strategies

Premium Times, 9 May 2019

The Inspector-General of Police, Mohammadu Adamu, has announced new counter-kidnapping operational strategies. Read more »

Nigeria: Again, Buhari Summons Security Meeting With Service Chiefs, Others

Premium Times, 9 May 2019

President Muhammadu Buhari on Thursday in Abuja received a briefing from service chiefs and heads of other security agencies, including the acting Inspector-General of Police,… Read more »

Nigeria: Take Responsibility for Insecurity in Nigeria, Atiku Tells Buhari

Premium Times, 8 May 2019

Former vice president Atiku Abubakar has admonished President Muhammadu Buhari and the ruling All Progressive Congress (APC) to take responsibility for the increasing rate of… Read more »
InFocus
President Muhammadu Buhari has promised not to let the people down. Buhari pledged to keep working hard to deliver an improved life to Nigerians. Buhari has come under increased ... Read more »

In a response to a question on the security situation in the country, President Muhammadu Buhari said that the Inspector General of Police, Mohammed Adamu, "is losing weight ... Read more »

The acting Inspector-General of Police, Alhaji Mohammed Adamu, has said that 1,071 people lost their lives in crime-related cases across the country in the first quarter of 2019. ... Read more »