Ramaphosa Cuts Cabinet to 28 Ministers, Half of Whom Are Women
After a day of consultation, South African President Cyril Ramaphosa finally announced his Cabinet on Wednesday evening. David Mabuza and Pravin Gordhan will keep their positions as Deputy President and Public Enterpises Minister respectively. In a surpise move, former Cape Town mayor and now GOOD party leader Patricia de Lille is to become a minister, while a number of ANC veterans didn't make the cut.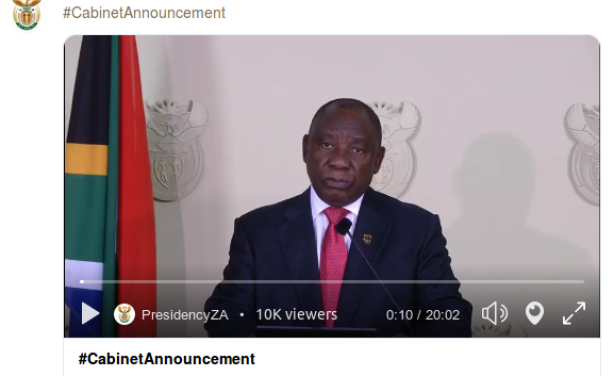 President Cyril Ramaphosa announces his new cabinet on May 29, 2019.
South Africa: New Cabinet and New Ministries - The List

SAnews.gov.za, 29 May 2019

Government has yet again showed its commitment to job creation, with the composition of a new Ministry of Employment and Labour which will focus on addressing the challenge of… Read more »

South Africa: Reduced Cabinet Purpose-Built for Effective Delivery

SAnews.gov.za, 29 May 2019

President Cyril Ramaphosa has announced a reconfigured Cabinet with the number of Ministers reduced to 28, down from 36 in the previous administration. Read more »

South Africa: Statement On the Appointment of Members of the National Executive

SAnews.gov.za, 29 May 2019

29 May 2019 Read more »

South Africa: Order! Meet New Justice Minister Ronald Lamola

News24Wire, 30 May 2019

Newly-appointed Minister of Justice and Correctional Services Ronald Lamola could be described as the ANC's favourite comeback kid. Read more »

South Africa: Ramaphosa Proposes Date for State of the Nation Address

News24Wire, 29 May 2019

President Cyril Ramaphosa has formally proposed June 20 for the delivery of his State of the Nation Address (Sona) to Parliament, making it his second this year. Read more »

South Africa: Ramaphosa's New Dawn Is Here - but What It Will Take to Bring the Civil Service Back to Life?

Daily Maverick, 30 May 2019

A new president, a new Cabinet, but the same old civil service. The compliance culture that has evolved since 1994 has all but killed the developmental state. Deeply fearful of… Read more »

South Africa: Horse-Trading and Compromises - Ramaphosa's Realpolitik Cabinet

Daily Maverick, 30 May 2019

With a strong nod to financial discipline and continuity, President Cyril Ramaphosa on Wednesday night named Tito Mboweni Finance Minister, while Pravin Gordhan retained Public… Read more »

South Africa: New Government is Still a Difficult Work in Progress

Daily Maverick, 30 May 2019

President Cyril Ramaphosa's appointment of his first post-election Cabinet was always going to be the first public expression of his own assessment of his own power within the ANC.… Read more »

South Africa: Key Finance Posts Largely Stay With the Incumbents, but Is That What the Country Needs?

Daily Maverick, 29 May 2019

Despite his ongoing dispute with the Public Protector, Pravin Gordhan remains Public Enterprises Minister. Despite his ongoing disputes with the mining industry, Gwede Mantashe… Read more »

South Africa: Ramaphosa's Blindside - Patricia De Lille Made Minister While DA Cries Foul Play

Daily Maverick, 30 May 2019

Some analysts predicted that President Cyril Ramaphosa would reach across the political divide and allocate at least one spot in his Cabinet to an opposition politician. But few… Read more »

South Africa: Assessing the Motsoaledi Years

Daily Maverick, 30 May 2019

Dr Aaron Motsoaledi became South Africa's Minister of Health 10 years ago, in May 2009. For most of the past decade, Motsoaledi and the Director-General of Health Malebona Precious… Read more »

South Africa: Four Questions About Cabinet Answered

News24Wire, 29 May 2019

Over the past few days, the expectations were high as President Cyril Ramaphosa readied to announce his Cabinet. Here are some of the legal things he had to keep in mind ahead of… Read more »
InFocus
African National Congress (ANC) Brian Bunting branch member Phapano Phasha has called upon the party's Integrity Commission to flag Pravin Gordhan as "a risk to the reputation of ... Read more »

ANC deputy president David Mabuza is one step closer to returning as the state's second most powerful official, after being sworn in as a Member of Parliament on Tuesday. Hours ... Read more »

President Cyril Ramaphosa didn't announce his Cabinet as was widely expected on Sunday. The Daily Maverick's Marianne Merten writes that it is unprecedented that a day after ... Read more »