Police Hunt For Zimbabwe Opposition Leaders Biti, Komichi
Top opposition MDC Alliance officials Tendai Biti, Morgan Komichi and seven others have been accused of inciting the deadly post-election violence that rocked Harare. The opposition has dismissed President Emmerson Mnangagwa's victory as fraudulent and is preparing to challenge the results in court.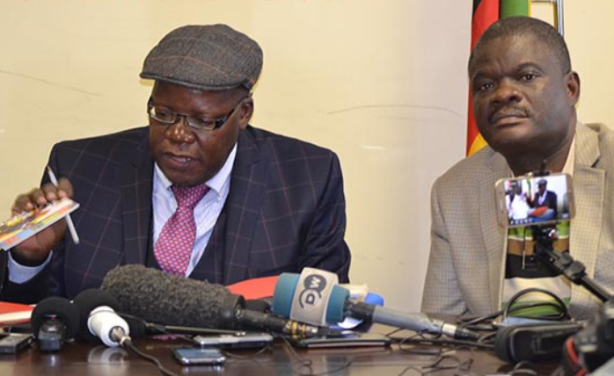 MDC-Alliance officials Tendai Biti and Morgan Komichi (file photo).
Zimbabwe: Authorities Harass, Beat Up Opposition

HRW, 7 August 2018

The Zimbabwe Security Forces and unidentified gunmen have intensified a crackdown on supporters of the opposition Movement for Democratic Change Alliance (MDCA) in the aftermath of… Read more »
MDC Alliance supporters protested in Harare after the electoral commission announced that Zimbabwe's ruling party had won a majority of seats in Parliament.

A torched vehicle near the Simon Vengai Muzenda Street bus terminus (formerly Fourth Street) at Zanu-PF Harare Provincial offices.
Zimbabwe: Opposition Leaders Biti, Komichi and 7 Others Wanted By Police

The Herald, 7 August 2018

The Zimbabwe Republic Police (ZRP) is looking for nine senior MDC-Alliance officials, including Tendai Biti and Morgan Komichi, on allegations of inciting their supporters to… Read more »

Zimbabwe: Army Beatings, Abductions Claim All Lies, Govt Tells Envoys

New Zimbabwe, 7 August 2018

The government has dismissed as lies social media claims of beatings and abductions of citizens in the poorer suburbs of Harare following last week's disputed elections. Read more »

Zimbabwe: Opposition Protesters Remanded in Custody Over Post-Election Violence

The Herald, 7 August 2018

Twenty seven suspected MDC-Alliance supporters who last week went on a rampage destroying property, torching vehicles, blocking roads and attacking people in Harare's central… Read more »

Zimbabwe: Sour Election a Blow to the Country

The Source, 6 August 2018

By William Saunderson-Meyer - There were high hopes that the general election in Zimbabwe would unambiguously mark the end of this southern African nation's long, painful slide… Read more »