Inquiry Hears of ANC's 'Bullying' to Secure Gupta Bank Accounts
Standard Bank's former head of compliance, Ian Sinton, who was testifying at the Commission of Inquiry into State Capture, has said that he faced threats from former mineral resources minister Mosebenzi Zwane, the ANC at Luthuli House and Cabinet ministers who to rescind the decision to close the Gupta-linked Oakbay group's accounts. The commission continues its investigation into allegations of undue influence by the politically connected Gupta family on members of the executive and at state-owned entities.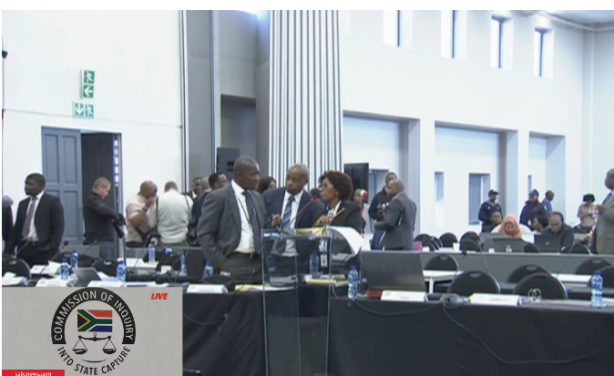 Video screenshot of the Zondo Commission of Inquiry (file photo).
South Africa: We Didn't Mean to Pressurise the Banks - Gwede Mantashe

Daily Maverick, 18 September 2018

Then ANC Secretary-General Gwede Mantashe addresses the media during the party's 54th national elective conference on December 18, 2017 in Soweto, South Africa. Photo by Gallo… Read more »

South Africa: The Sordid Story of Mosebenzi 'Gupta' Zwane - South Africa's Most Captured Cabinet Minister

Daily Maverick, 18 September 2018

Mosebenzi Zwane, former mineral resources minister, effectively acted as a direct emissary in former president Jacob Zuma's Cabinet for the Gupta family, the Zondo Commission heard… Read more »

South Africa: ANC Threatened to Keep Gupta Accounts Open, State Capture Commission Hears

News24Wire, 17 September 2018

Former mineral resources minister Mosebenzi Zwane threatened Standard Bank's operating licence and threatened to change the banking laws, all in an effort to allow the politically… Read more »

South Africa: Banks to Give Evidence at #StateCaptureInquiry

News24Wire, 17 September 2018

The judicial commission of inquiry into state capture is on Monday expected to hear evidence from representatives of banks that were involved in the closure of Gupta related bank… Read more »
InFocus
"The Zondo commission should subpoena those implicated in the deterioration of the criminal justice system to establish how deep the corruption runs. While there already are ... Read more »

The Zondo Commission of Inquiry into State Capture has heard evidence from various former MPs and other government officials, as well as former ministers, on how they were offered ... Read more »

On day six of the inquiry into state capture, former Government Communication and Information System boss Themba Maseko said the Gupta family wanted him to "break the laws of the ... Read more »