Mnangagwa Cuts Off VP Chiwenga's Access to Zimbabwe's Military
President Emmerson Mnangagwa has withdrawn Vice President Constantino Chiwenga's oversight role of the Ministry of Defence and War Veterans. In a stunning political blow to Chiwenga, Mnangagwa reassigned the former Zimbabwe Defence Forces commander to exercise oversight in "procurement and research" instead.
Zimbabwe: Mnangagwa Moves to Clip Chiwenga's Power

263Chat, 3 November 2018

President Emmerson Mnangagwa has repealed Statutory Instrument 96 of 2018 which had been designed to award Vice President Constantino Chiwenga with powers to oversee the defense… Read more »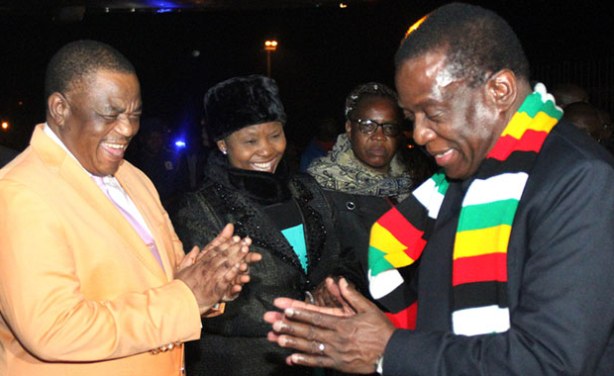 President Emmerson Mnangagwa, Vice President Constantino Chiwenga and Defence Minister Oppah Muchinguri-Kashiri, second from right (file photo).
Zimbabwe: 'Mnangagwa Set for Second Term'

New Zimbabwe, 1 November 2018

The Zanu-PF youth league has pitched its tent firmly in President Emmerson Mnangagwa's camp as the ruling party - famed for its rancorous factionalism - rows anew. Read more »

Zimbabwe: Ruling Party Youths Endorse Mnangagwa for 2023 Polls

263Chat, 1 November 2018

Barely three months after the 2018 elections, the Zanu-PF Youth league has begun canvassing for the endorsement of President Emmerson Mnangagwa as the ruling party candidate in the… Read more »

Zimbabwe: We Say No to Factionalism - Youth League Boss Togarepi

Zanu-PF, 30 October 2018

While we pride ourselves as the Zanu-PF youth league for being the vanguard of the party, we are ever mindful to the values that defi ne us not only as a political party but also… Read more »

Zimbabwe: Mnangagwa Ally Spills the Beans

Zimbabwe Standard, 28 October 2018

President Emmerson Mnangagwa's advisor Christopher Mutsvangwa yesterday launched an astonishing attack against Zanu-PF benefactor Kudakwashe Tagwirei, claiming that he is now a… Read more »

Zimbabwe: Gloves Off - Inside the Fierce War for Control of Country's Fuel Industry

Zimbabwe Standard, 28 October 2018

A fierce war is brewing behind the scenes for control of Zimbabwe's fuel industry pitting President Emmerson Mnangagwa and Vice-President Constantino Chiwenga's allies following a… Read more »

Zimbabwe: Ailing Chiwenga Must 'Keep Away From Office'

New Zimbabwe, 18 October 2018

Ailing vice president Constantino Chiwenga "must keep away from the office for a while" as he continues his recovery from a health scare officials described as "very bad". Read more »

Zimbabwe: Separate Kariba Urban From Nyaminyami - VP Chiwenga

The Herald, 9 October 2018

Vice President Constantino Chiwenga has called for the separation of Kariba Urban from the Nyaminyami Rural District Council, with two separate administrations for effective and… Read more »