New Twist As Zimbabwe's Supposed Graft-Busters Get Death Threats
Two magistrates from the recently launched Special Anti-Corruption Court have reportedly received death threats in the midst of critical investigations into high-profile cases. There have been no high-profile convictions since President Emmerson Mnangagwa took office, even though he claims that his anti-corruption campaign is the boldest and most serious that Zimbabwe has ever experienced.
Zimbabwe: Magistrates Get Death Threats

The Herald, 21 November 2018

Acting Police Commissioner-General Stephen Mutamba has assured magistrates and other stakeholders in the fight against corruption of protection after two judicial officers recently… Read more »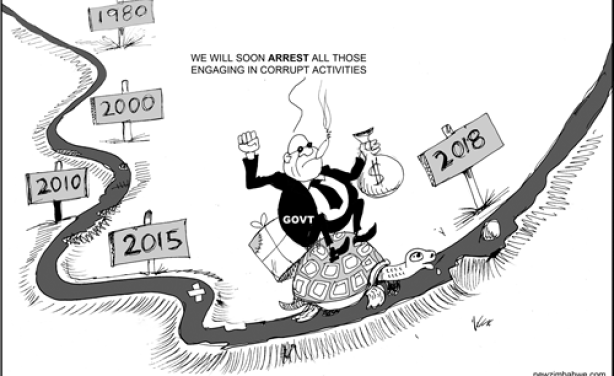 Corruption in Zimbabwe.
Zimbabwe: False Start to Parirenyatwa Trial

The Herald, 21 November 2018

The trial of former Health and Child Care Minister David Parirenyatwa for alleged criminal abuse of office which was scheduled to start yesterday was postponed to December 11. Read more »

Zimbabwe: Harare Businessman "Ginimbi" Freed On U.S.$1 000 Bail

The Herald, 21 November 2018

Harare businessman Genius "Ginimbi" Kadungure, who is facing charges of fraud, tax evasion and money laundering, was yesterday granted $1 000 bail by the High Court after spending… Read more »

Africa: Zimbabwe's President Urges Continent to Fight Corruption

The Herald, 19 November 2018

President Mnangagwa yesterday said it is necessary for all African countries to fight corruption within their respective jurisdictions, as the recent launch of a Continental Free… Read more »

Zimbabwe: Barely Any Movement As Mnangagwa Creates Anti-Corruption Mirage

New Zimbabwe, 28 September 2018

A new-look cabinet that appears clean from a distance, arrests of prominent individuals, constant promises to root out graft, "dumping" of old cronies perceived to be… Read more »

Zimbabwe: Zimbabweans in Diaspora Doubt Govt's Stance On Corruption

CAJ News, 9 October 2018

Zimbabweans in the Diaspora doubt the sincerity of pledges by the administration of President Emmerson Mnangagwa to revive the rule of law as properties grabbed from mostly white… Read more »

Zimbabwe: Mnangagwa's Failure to Arrest Corrupt People Scares Investors - Mliswa

263Chat, 24 July 2018

Member of Parliament for Norton constituency, Temba Mliswa has countermanded President Emmerson Mnangagwa's 'voice of the people is the voice of God' mantra, saying his failure to… Read more »

Zimbabwe: Is Mnangagwa's Anti-Corruption Unit Illegal?

Zimbabwe Independent, 1 June 2018

President Emmerson Mnangagwa's decision to create a Special Anti-Corruption Unit in his office has sparked controversy, with legal experts questioning the constitutionality and… Read more »

Zimbabwe: U.S.$2000 Bail for Former Minister Mandiwanzira

263Chat, 7 November 2018

Former ICT Minister, Supa Mandiwanzira has been granted $2000 bail by Harare Magistrate, Nimrod Guvamombe. Read more »