Election Brings Surprises, Reflection for South African Parties
Democratic Alliance (DA) leader Mmusi Maimane has said his party has to examine how it lost support to the Freedom Front Plus whose surprise success at the polls makes it the fifth-largest party in the country. The Economic Freedom Fighters (EFF) claimed more than 1.2 million votes nationally, which EFF deputy president Floyd Shivambu says is an impressive sign of growth compared to the African National Congress's and the DA's "stagnant" numbers.
South Africa: Nelson Mandela's Party's Last Easy Win

Deutsche Welle, 10 May 2019

The elections in South Africa haven't produced a landslide result. Turnout was low -- young people, in particular, are shunning the ballot box. The dominant ANC is living on… Read more »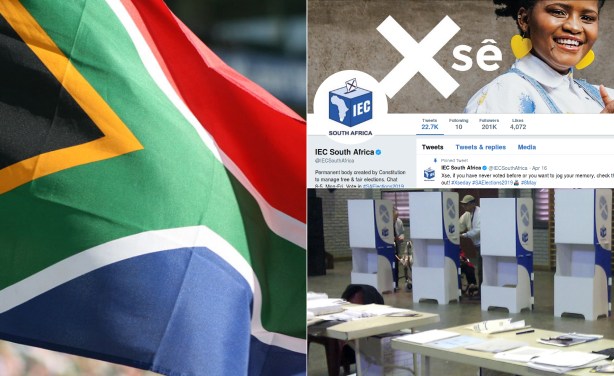 Left: South African flag. Top-right: Independent Electoral Commission Twitter page. Bottom-right: Voting booths.
South Africa: ANC Wins Reelection

Deutsche Welle, 11 May 2019

The ruling ANC has won South Africa's general election, despite a steep dip in turnout. Corruption scandals and political infighting have seen support for the late Nelson Mandela's… Read more »

South Africa: 2019 Election Was Free and Fair - Electoral Commission

News24Wire, 11 May 2019

Electoral Commission of South Africa (IEC) chairperson Glen Mashinini declared the 2019 national and provincial elections free and fair, during an official announcement ceremony in… Read more »

South Africa: IEC Declares ANC As Winner of 2019 Elections

SAnews.gov.za, 11 May 2019

The ruling African National Congress (ANC) has bagged victory in the 2019 Elections, with 57.50% of the total national votes cast in the hotly contested polls. Read more »

South Africa: A Win Is a Win, Emphasises Cyril Ramaphosa

News24Wire, 12 May 2019

The ANC has taken to the streets outside its Luthuli House headquarters in the Johannesburg CBD to celebrate its victory. Read more »

South Africa: #SAElections2019 - DA Wins One Home and One Away

News24Wire, 12 May 2019

Elections are all about winning - winning the right to govern the country, winning control of provinces, winning seats in Parliament, and winning as much support as possible. Read more »

South Africa: Govt Commends SA for Making Elections a 'Resounding Success'

News24Wire, 11 May 2019

South Africa's 2019 general elections were hard fought but were contested in the spirit of political maturity and tolerance, said the government. Read more »

South Africa: ATM Back Outs of Legal Action of Smaller Parties On Election

News24Wire, 11 May 2019

In a turn of events, the African Transformation Movement (ATM) has backed out of court action by 27 disgruntled small parties against the Electoral Commission's (IEC) election… Read more »

South Africa: By the Numbers - ANC Wins Big in KZN, but the IFP Is Smiling

News24Wire, 11 May 2019

With 100% of votes counted in KwaZulu-Natal, the ANC may have been confirmed as the official governing party in the province, but it's likely to be the IFP will celebrate the… Read more »

South Africa: Official Opposition Claims 'Significant Shift' of New Black Voters

News24Wire, 11 May 2019

The DA's national elections manager Jonathan Moakes says though the party may have had "racial nationalists" vote against it, there has been a "significant shift" of black voters… Read more »

South Africa: 'The Main Thing Is a Job' - the Battle for South Africa's Swing City

African Arguments, 7 May 2019

Control of most areas is unlikely to change following the elections, but Port Elizabeth has switched hands recently and could do again. Read more »

South Africa: We Are Now Part of the Big Five Parties - FF Plus Celebrates Its Achievement

News24Wire, 10 May 2019

The Freedom Front Plus says it is now seated at the big table, saying that it is part of the big five parties in the country. Read more »

South Africa: Growing EFF Numbers Show SA's Confidence in the Party - Floyd Shivambu

News24Wire, 10 May 2019

The EFF is inspired by its growth as ballot counting wraps up and so far, it has bagged more than 1.2 million votes nationally. Read more »

South Africa: 'Comfortable' Maimane Looking Forward to Gauteng's Final Results On Friday

News24Wire, 10 May 2019

DA leader Mmusi Maimane put on a brave face as he dropped in at the IEC's results operations centre in Tshwane on Thursday evening. Read more »